This 29th April celebrates the 172nd Birth Anniversary of Raja Ravi Varma. On this occasion, Novacards brings to you the life, legacy and works of this eminent artist.
You can read the vocabulary used here before reading this blog by clicking here.
Back in the 19th century when modernism was taking roots and "progressive India" was the call of the day, the subcontinent was blessed with an artist. This artist contributed largely to the development of Indian art. He perfectly blended the techniques of the west with the ideas of the east, often to produce phenomenal works of art. Later, he went on to be known as the 'Father of Modern Indian Art'. Even today, the whole world admires his works. This celebrated artist is none other than Raja Ravi Varma, the 'royal' painter of Kerala.
Raja Ravi Varma was born in Kilimanoor, Kerala in 1848 in a culturally rich environment. Recognizing his talent, his parents sent him to study under the patronage of the Maharaja of Travancore. There he studied under the guidance of Rama Swami Naidu, the palace painter. Later he learnt European oil painting techniques from a Dutch painter, Theodore Jensen. In 1873, his work got international recognition for the first time in an exhibition in Vienna. Shortly after that Ravi Varma gained popularity abroad. His works can be categorized into 3 types — portraits, portrait-based compositions and theatrical compositions based on myths and legends.
Raja Ravi Varma started a printing press to print lithographs and oleographs depicting Hindu Gods and Goddesses. Lord Curzon honoured him with the Kaisar-i-Hind Gold Medal in 1904. On 2nd October 1906, Raja Ravi Varma passed away at the age of 58 in Attingal, Travancore.
Raja Ravi Varma will always be applauded for his contributions to Indian art. However, the social impact of his works has a special place in history. In search of subjects to paint, Ravi Varma travelled the whole country. It is said that before Raja Ravi Varma, the Hindu Gods and Goddesses were portrayed in an iconographic way. The sculptures and paintings did not have a humane feel to them. The celestial beings were considered divine and hence different from the human form. It was the same with the mythological characters. The stories in the Ramayana and Mahabharata were mostly heard or read. There were very few visual representations of these characters or events.
Ravi Varma painted various paintings depicting the Gods and Goddesses, mythological characters and he did so while using common people and models as his subject. His paintings of Shakuntala, Krishna, Saraswati, etc are quite famous. The painting of Hamsa Damayanti is one of his most sought-after artworks.
He was often criticized for not following the conservative habits of society. Nevertheless, his works spoke for themselves. His ideas and work were immensely admired by the young and the old and soon he became a role model for everyone. Another feature of his compositions that differentiated him from other contemporary artists was the dramatization of scenes. A good example of this is his painting of Ravana killing Jatayu. It can be safely said that Ravi Varma's representation of mythological characters truly became part of the Indian imagination of the epics.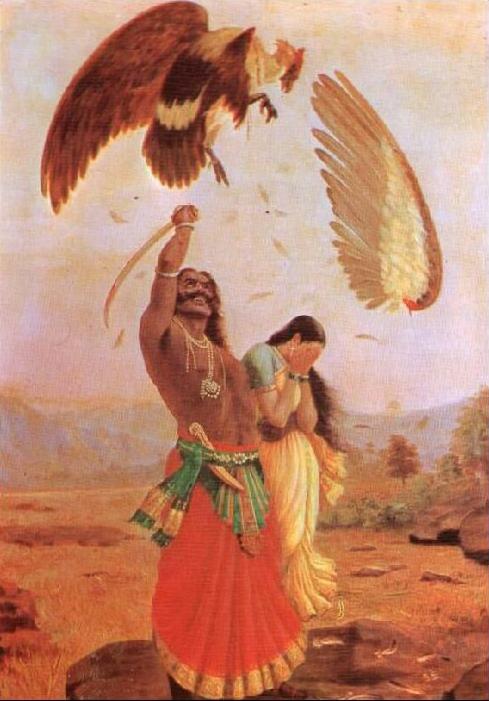 In 1881, Ravi Varma was first commissioned by the Gaekwad of Baroda, Sir R. Madhavrao to create beautiful paintings for the palace durbar. In 1890, a public exhibition of his paintings was held at Laxmi Vilas Palace, Baroda. Until then, the common people were not able to see the great artworks of any painters of the era.
Today's modern man is privileged enough to admire visual art whenever he wishes to as art galleries are found in abundance today. But this wasn't the case in the 19th century. Traditionally, only the royals and higher classes of the society would commission artworks, which would not be open to be viewed by the public.
By introducing the common people to the art form, Raja Ravi Varma induced a discreet sense of equality among the people. By mass printing lithographs and oleographs of his works through his printing press, Ravi Varma questioned the hierarchies of art ownership. Caste-based hierarchies that dictated social norms were dominant in pre-Independence India. Only certain higher castes would be allowed to visit temples and other social places. By providing equal access to the images of Gods and Goddesses, he challenged the caste hierarchies too. Many of his painted deities are found in the puja rooms even today.
While studying the life of this remarkable artist, one cannot help but be mesmerized by his influence on our society. From advertisement pamphlets to high-end exhibitions, his works are a part and parcel in the daily life of an average Indian. It's because of artists like Ravi Varma, that we are often reminded about the power that art holds. It often acts as a medium of communication and social change. Many great personalities are responsible for the social development of India. Raja Ravi Varma was indeed one of them.
---
Interesting Facts:
Raja Ravi Varma left his last painting incomplete which was then completed by his brother Rama Varma.
In 1972, Ravi Varma's press had a fire accident and all the original lithographic works of his were lost.
Film historians have continuously reiterated the unmistakable influence of Ravi Varma's paintings in Dadasaheb Phalke's movies.
The famous 'Woman with the Lamp' painting is often mistaken as Ravi Varma's work. In reality, the painting belongs to the artist S.L. Haldankar.
Many movie posters and even the popular comics of Amar Chitra Katha were influenced by his masterpieces.
---
Vocabulary
Lithography

The process of printing from a flat surface treated so as to repel the ink except where it is required for printing. Find more here.
Oleograph

A print textured to resemble an oil painting. Find more here.
Iconography

(In this particular context) The imagery or symbolism of a work of art, an artist, or a body of art. Find more here.